Best Student Paper Award:
Emmanuel Silva Quaye from University of the Witwatersrand/SouthAfrica
Paper entitled « Xenocentrism, Cosmopolitanism, Ethnocentrism and Consumer Behaviour in Emerging Markets: Important Antecedents and Consequences »
« That´s interesting » Award:
Constanze Rath & Sina Großkopf from University of Passau/Germany
Paper entitled « Leadership in the VUCA World – A Systematic Literature Review »
Best Paper Award:
Petia Genkova & Henrik Schreiber from University of Applied Sciences Osnabrück/Germany
Paper entitled « Impact of Stays Abroad on Intercultural Competence of Students »
The following awards will be judged by a panel of professors from different academic institutions.
➤ Best conference paper award
➤ Student best paper award
➤ The 'That's Interesting! award' rewards the conference paper that most effectively pushes the boundaries of our existing knowledge in the field by crossing boundaries, challenging existing assumptions in the field, attracting the reader's attention, making an original argument and provoking new discussions.
Please note, to be considered for an award you need to submit a full paper to the conference.
The Best conference and "That´s interesting!" paper award winner will be invited to publish a modified version for the Journal EJCCM.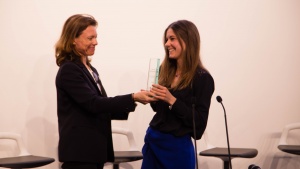 The European Journal of Cross-Cultural Competence and Management (EJCCM) is an academic publication with strong ties to the International Association of Cross-Cultural Management and Competence. All information, including a detailed description of EJCCM scope, author guidelines and contact persons can be found online at the journal's website