Special rates are available for the following hotels but please take into account that reservations are limited for each hotel and will be assigned on a first come, first served basis.
Click on any of the hyperlinks below to find out more about the individual hotels, their location and how to book a room.
Some offer a dedicated link to book rooms, some provide an email address you have to send your booking request to. When making your reservation, please don't forget to mention the code "IESEG-IACCM" in order to benefit from the our negotiated rates.
---
HOTELS IN LA DÉFENSE (Near IÉSEG) – Overview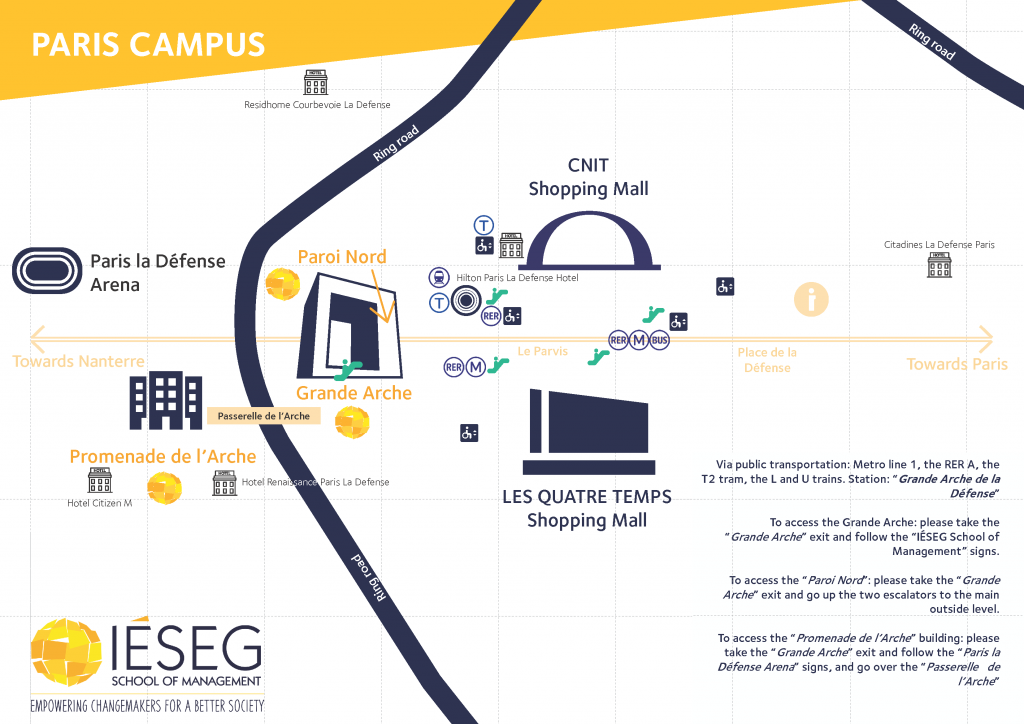 RENAISSANCE PARIS LA DEFENSE****

184€ (regular days) / 153€ (week-ends and school holidays), breakfast and Wi-Fi included
City Tax: 2,42€
Booking only by e-mail: pierre.herranz@renaissancehotels.com

CITIZEN M****
20% off on the public rate following the IESEG link. Breakfast not included (+15,95€)
City Tax: 2,25€
Booking via the Citizen/IESEG link
HILTON PARIS LA DEFENSE HOTEL****
25% off on any room on the public Hilton website
Breakfast not included (+26€, 20€ or 12,50€)
City Tax: 2,42€
Booking only by e-mail: parisladefense.reservations@hilton.com 
RESIDHOME COURBEVOIE LA DEFENSE****

Studio Classique: 160,50€ (2 people)
1 breakfast included
City tax: 2,20€/person
Booking only by e-mail: ladefense@residhome.com

CITADINES LA DEFENSE***

Studio (up to 2 people): 135€ – Breakfast not included (+13€)
Apartement (up to 4 people): 155€

Both the studio and the apartments have a kitchenette fully equipped
City tax: 1,32€ per night per person

Booking only by e-mail: corporate@citadines.com, copy to olga.dacosta@the-ascott.com

RESIDHOME NANTERRE LA DEFENSE***

Studio Classique: 106€ (2 people)
1 breakfast included
City tax: 1,32€/person
Booking only by e-mail: nanterre.ladefense@residhome.com

SEJOURS & AFFAIRES GRANDE ARCHE**

Studio: 78€ / studio PREMIUM: 93€ / 2-room flat PREMIUM: 128€
Booking only by e-mail: ladefense.grandearche@sejours-affaires.com

HOTELS WITHIN THE PARIS CITY CENTER – Overview

More details on the hotels

---
RENAISSANCE PARIS LA DEFENSE ****

60 Jardin de Valmy – 92918 Paris La Défense Cedex
Right near La Grande Arche building
Deluxe Room: 184€ per night, American breakfast and Wi-Fi included
Occupancy Tax: 2,42€ per night per person
Booking only by e-mail at: pierre.herranz@renaissancehotels.com
Payment upon arrival
Free cancellation 24 hours prior to hotel check-in time
If cancelled later or in case of no-show 100% of the first night will be charged
Renaissance Paris La Défense Website
---
CITIZEN M ****

194 Jardin de l'Arche – 92000 Nanterre
Right near La Grande Arche building
20% off on the public rate following the IESEG link below. Breakfast not included (+15,95€)
City Tax: 2,25€
Booking via this link https://www.citizenm.com/ieseg-iaccm
Free cancellation up to 7 days before arrival
free Wi-Fi/movies in all rooms – XL kingsize beds in all rooms – power rain shower – 2 people max in each room – skype phone rates – international plug system – ambient room experience with touch screen control for color, temperature, blinds, television and more / late check out possible (optional)
---
HILTON LA DEFENSE ****

2 place de la Défense – 92800 Puteaux
5 minutes' walk from IÉSEG
25% off on any room on the Hilton public web site
Breakfast (buffet) 26€ – Continental 20€ – Parisian 12.50€
Booking only by e-mail at: parisladefense.reservations@hilton.com 
Credit card details required to guarantee the booking
Payment upon arrival
Free cancellation 24 hours prior to hotel check-in time
If cancelled later or in case of no-show 100% of the first night will be charged
---
RESIDHOME COURBEVOIE LA DÉFENSE ****

49 avenue de l'Arche – 92400 Courbevoie
5 to 10 minutes' walk from IÉSEG
Studio Classique: 160,50€ (2 people)
1 breakfast included
City tax: 2,20€/person
Booking only by e-mail: ladefense@residhome.com
Payment upon arrival
Free cancellation 24 hours prior to hotel check-in time
If cancelled later or in case of no-show 100% of the first night will be charged
Residhome Courbevoie La Défense Website
---
CITADINES LA DÉFENSE***

1-8 boulevard de Neuilly – 92400 Courbevoie
15 minutes' walk from IÉSEG / 5 minutes by metro (1 stop)
Studio (2 people): 135€ – Breakfast not included (+13€)
Apartement (4 people): 155€
Both the studio and the apartments have a kitchenette fully equipped
City tax: 1,32€ per night per person
Booking only by e-mail: corporate@citadines.com, copy to olga.dacosta@the-ascott.com
Credit card details required to guarantee the booking
Payment upon arrival
Free cancellation until 6 p.m. on the day before your scheduled arrival
If cancelled later or in case of no-show 100% of the first night will be charged
---
RESIDHOME NANTERRE LA DÉFENSE ***

521, boulevard des Provinces Françaises – 92000 Nanterre
Located near Nanterre-Université, 15-20 minutes by RER (2 stops)
Studio Classique: 106€ (2 people)
1 breakfast included
City tax: 1,32€/person
Booking only by e-mail: nanterre.ladefense@residhome.com
Payment upon arrival
Free cancellation 24 hours prior to hotel check-in time
If cancelled later or in case of no-show 100% of the first night will be charged
Residhome Nanterre La Défense Website
---
SÉJOURS & AFFAIRES GRANDE ARCHE DE LA DÉFENSE **

11 allée des Tilleuls – 92400 Courbevoie
5 to 10 minutes' walk from IÉSEG
Studio: 78€ breakfast not included (+8€)
Occupancy tax: 0,40€ per night per person
Booking only by e-mail: ladefense.grandearche@sejours-affaires.com
Payment upon arrival
Free cancellation 24 hours prior to hotel check-in time
If cancelled later or in case of no-show 100% of the first night will be charged
Séjours & Affaires Grande Arche La Défense Website
---
CITADINES TROCADERO PARIS ***

29 bis, rue Saint-Didier – 75116 Paris
30-45 minutes by metro
Classic room (1 person): 143€
Studio (2 people): 176€ – Breakfast not included (+13€)
Apartement (4 people): 282€
Apartement (6 people): 353€
Both the studio and the apartments have a kitchenette fully equipped
City tax: 1,32€ per night per person
Booking only by e-mail: corporate@citadines.com, copy to olga.dacosta@the-ascott.com
Credit card details required to guarantee the booking
Payment upon arrival
Free cancellation until 6 p.m. on the day before your scheduled arrival
If cancelled later or in case of no-show 100% of the first night will be charged
---
CITADINES TOUR EIFFEL PARIS ***

132 Boulevard de Grenelle, 75015 Paris
30-45 minutes by metro
Studio (2 people): 183€ – Breakfast not included (+13€)
Studio Eiffel Tower View: 219€
Apartement (4 people): 290€
Apartement Eiffel Tower View: 348€
Both the studio and the apartments have a kitchenette fully equipped
City tax: 1,32€ per night per person
Booking only by e-mail: corporate@citadines.com, copy to olga.dacosta@the-ascott.com
---
CITADINES BASTILLE LE MARAIS ***

37, boulevard Richard Lenoir – 75011 Paris
45 minutes by metro
Studio (2 people): 147€ – Breakfast not included (+13€)
Studio Deluxe: 153€
Appartement (4 people): 214€
Appartement Deluxe: 220€
Both the studio and the apartments have a kitchenette fully equipped
City tax: 1,32€ per night per person
Booking only by e-mail: olga.dacosta@the-ascott.com, copy to corporate@citadines.com
Credit card details required to guarantee the booking
Payment upon arrival
Free cancellation until 6 p.m. on the day before your scheduled arrival
If cancelled later or in case of no-show 100% of the first night will be charged
Citadines Bastille Le Marais Website
---
EXCELSIOR OPERA ***

5 rue Lafayette – 75009 Paris
30 minutes with the RER A
136€ for 1 person
161€ for 2 people
(all rooms are equipped with two-persons beds)
Breakfast & occupancy tax included
Booking only by e-mail: info@excelsior-opera.com
Payment upon arrival
Free cancellation 24 hours prior to hotel check-in time
If cancelled later or in case of no-show 100% of the first night will be charged
---